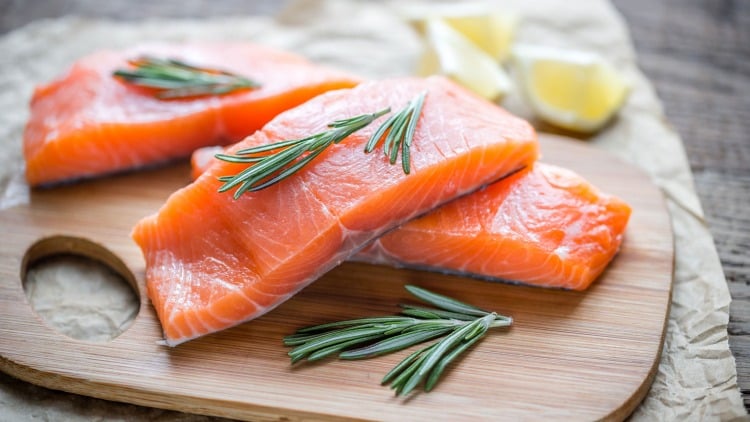 For many Americans, heart disease is at the top of our list of possible health concerns. A healthy diet continues to be one of the most effective ways to ward off the risk of possible heart complications.Such risks are even higher for those living with diabetes. Because of these elevated risks, diabetics are encouraged to balanced diets including a carbohydrate, protein and fat (to avoid high blood sugar and possible hypoglycemia) at each meal. If you're not sure how to build a balanced plate, we have a blog post describing what the diabetes plate method is and how to achieve it at each meal!
Salmon is often at the top of the recommended list for diabetics specifically because of its high level of omega-3 fatty acids. These are the "healthy" fats that assist your body with maintaining proper blood sugar levels and reducing the possible risks associated with inflammation in the blood.
As a result, omega-3s in food help reduce your risk of heart disease, which is especially important for those with type 2 diabetes. Wild salmon is not only rich in omega 3s but also contain a healthy-fat-and-protein combination that slows the body's absorption of carbohydrates, keeping blood sugars on an even keel.
After enjoying the diabetic salmon recipe below, you can keep that healthy lifestyle going by walking in your women's or men's diabetic shoes. When you're thinking about your next meal, consider this heart-healthy, low-carb option for blackened salmon (a personal favorite) -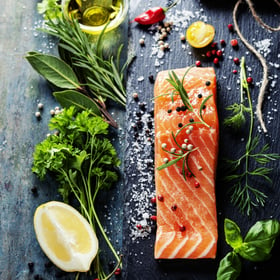 Makes 2 servings
2 med fillets wild salmon

1 tbsp. garlic powder

1 tbsp. dried parsley flakes

1 tbsp. dried basil

2 tsp. thyme

1 1/2 tsp. cayenne pepper

1 tsp. sea salt

1/4 tsp. ground black pepper

1 tbsp. olive oil
Step 1
Mix seasonings together and spread onto a flat plate. Invert the salmon into the seasoning, then flip over, making sure to coat all areas.
Step 2
Pre-heat oven to 400 and heat olive oil in an oven safe skillet over high heat on the stove top. Just before the oil begins to smoke, place salmon flesh-side down in the pan creating a deep sear. After about 2-3 minutes to properly blacken the salmon, flip over to the skin side and place the skillet in the oven for another 5-8 minutes to complete cooking.
Serve over fresh spring greens with a simple dressing such as vinegar and oil.
Step 3
SUBSTITUTIONS: Use this basic blackening season for other fish, chicken, or turkey.