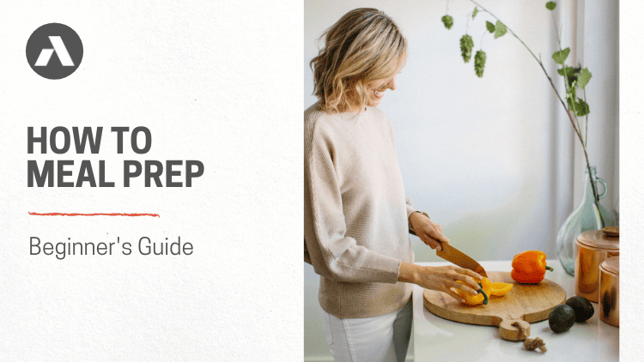 When you hear the words "meal prep" do you immediately think rigid, boring, and overwhelming? As a Registered Dietitian, I often get asked tips for meal prepping and what I cook/eat on a daily basis.
Top Five Meal Prep Tips:
1) Start Small. You are not going to go from never meal planning to a meal planning pro overnight. Start with meal prepping one meal or even snacks for the week. My Sunday agenda always includes making my energy bites. They are the perfect grab n' go breakfast, snack and even treat.
2) Have a Plan. I always encourage clients to take a look at their schedule with work, activities, etc. and plan out what they are going to eat throughout the week. This doesn't have to look like a breakfast, lunch and dinner meal plan exactly, but having an idea of what the meals look like will eliminate last minute fast-food stops, endless time at the grocery store and stress!
3) Variety. This goes hand in hand with the planning. Meal prepping doesn't mean that you have to have the same lunch Monday-Friday and dinner as well. Switch it up! For example, let's say you have a large batch of roasted vegetables. Instead of only topping with balsamic vinegar, try a new caesar dressing instead. It's the little switches that help us avoid burnout and boredom with our foods.
4) Wash & Chop Ahead of Time. This helps SO MUCH and is so impactful, trust me! When you get home from the store, make the extra effort of washing/chopping your fruits and vegetables so they are in their ready-to-eat form. This eliminates one extra step you have to do in your busy week.
5) Meal Prep a Protein. This one is something I've realized helps clients the most with feeling overwhelmed when trying to improve eating habits throughout the week. This could look like making chicken in a crockpot, or throwing a batch of protein on the grill Sunday to have throughout the week. It's much easier to get creative with your meal when the protein is already complete. For example, you know you can throw the chicken on a salad for lunch or even mix it in rice/beans/salsa for a quick dinner.

Three Meals/Snacks Always in my Meal Prep Rotation:
1) Energy Bites – These are the perfect grab n' go breakfast, snack and even treat.
2) Sheet Pan Roasted Vegetables – I love having roasted vegetables on hand because it allows me to get my veggies in, in ways that don't feel boring! Generally, I stick with the basic olive oil, sea salt and other seasonings when roasting, but I always switch up how I add them into my meals. For example, I can throw roasted red peppers in a taco salad, or throw a bunch of roasted vegetables in a pasta. My absolute number one tip to improve your health is to increase your vegetable intake and this is a great way to do it!
3) Crockpot Protein – The reason I didn't write a specific protein is because VARIETY is key. Some weeks I crockpot chicken breast, other weeks it looks like salsa chicken thighs or a pot roast.
Start here:
If you aren't sure where to start in terms of making sheet pan roasted vegetables or a crockpot protein, head to Pinterest! There are an abundance of recipes and I am positive you can find one to meet your taste preferences.
Remember, meal prepping doesn't have to mean endless hours at the grocery store and in your kitchen. You need a plan that eases your stress, improves your health & implements some sort of variety to make meal planning sustainable! If you have any questions, don't hesitate to email info@anodyneshoes.com.