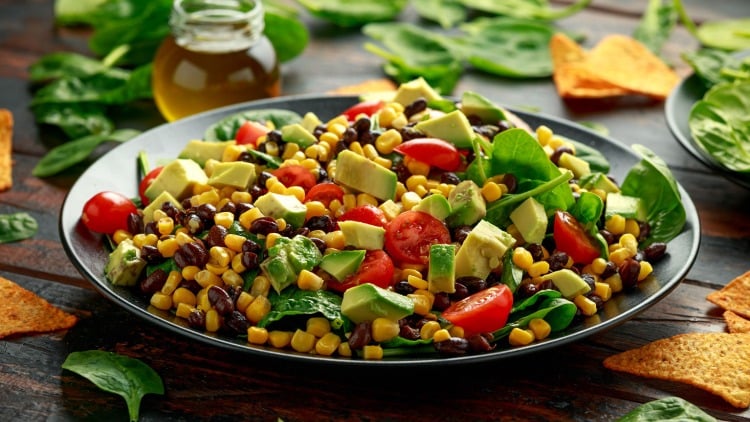 Whether you're off to a BBQ or just want a way to switch up your vegetables, this diabetic salad recipe is perfect. This corn, tomato and avocado salad is absolutely delicious. This is what a summer salad is all about and can be the main star of your meal or perfect as a side to bring.
As a diabetic, it is important to keep an eye on your carbohydrate intake and specifically, understand which foods cause greater fluctuations in your blood sugar. What many diabetics are not told when educated on diabetes nutrition is that not all carbohydrates are created equal and the importance of healthy fats in ones diet to help support hormone regulation (hello, insulin!). Healthy fats can help keep the blood sugar spikes to a minimum if combined properly!
One of the reasons I love this recipe is that you are getting a variety of flavors, along with lots of vegetables and healthy fats. Not to mention, it tastes delicious if you make it a few hours ahead and allow the juices to marinate - just leave out the avocado until serving. While you're waiting for it to marinate you'll have time to run errands in your diabetic shoes. A few suggestions to pair with this recipe:
Grilled chicken breast or thighs

Grilled flank steak

Add-in chickpeas or black beans for plant-based protein

Tortilla chips as a dip
Ingredients:
3-Ears of fresh corn

1-Pint of cherry tomatoes

1-Can of low-sodium black beans

1/2-Medium red onion, diced

1-2 Jalapeno peppers, finely diced

2-Large avocados, cubed
For the Dressing:
1/4 C. fresh lime juice

2 Medium garlic cloves

1/2 tsp. Salt

1/2 tsp. Black pepper

2 Tbsp. Extra virgin olive oil
Directions:
Boil the corn in water for 5-10 minutes, until tender. Remove from water and allow corn to cool.

Once the corn is cooled, strip the kernels off of the cob.

Whisk the lime

juice, garlic, salt, pepper and olive oil in a small bowl until the dressing emulsifies a bit.

In a large bowl, combine all ingredients besides the avocado and mix until evenly distributed.

Lastly, add the cubed avocado and toss gently.

Enjoy!