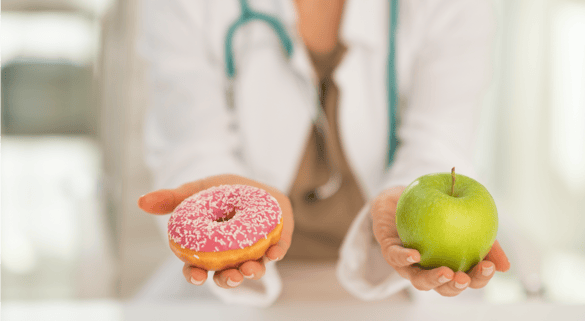 In addition to the types of food and the overall volume, it's also important to make sure that you're aware of the timing and variety of your meals. Whether you're diabetic or not, it's going to be incredibly beneficial to your health and quality of life if you're being smart about your eating habits.
To make things a little easier for you, here is a list we put together of 8 bad eating habits that should be avoided -
Skipping Breakfast - We always hear that breakfast is the most important meal of the day, and this is especially true for individuals with diabetes. Waiting too long to eat in the morning can result in hypoglycemia. It doesn't have to be a sit-down meal, but make sure you have something healthy in your body so you don't crash. Check out these healthy breakfast ideas.
Too much of the wrong type of fats - Excessive fat intake (more than 30 percent of total calories) may worsen insulin resistance. Stay away from meals that tend to contain high amounts of saturated fat, like those from fast food restaurants. Some research has found a modest benefit in monounsaturated fatty acids (MUFAs) on insulin resistance, as well as decreasing liver fat. MUFAs are good-for-you fats found in avocados, olive oil, nut butters, and seeds. A diet that is high in MUFAs and lower in saturated fats is also associated with improvements in cardiovascular health, lower LDL cholesterol, and reduced triglycerides and blood pressure.
You're eating too much meat - Overindulging in protein could impact your blood glucose levels, especially if that protein is from red meat, which may have an adverse impact on insulin sensitivity. Increased consumption of red meat has been associated with an increased risk of type 2 diabetes. It's also not a bad idea to limit intake of red meats to improve general cardiovascular health.
Your meals aren't balanced - Eating too much of one thing (like carbs) and not enough of another (like veggies and lean proteins) could cause blood sugar levels to spike. Pairing a lean protein (like a boneless, skinless chicken breast) with a high carbohydrate food (like brown rice) may slow digestion, help you feel full longer, and have a minimal impact on blood glucose levels.
You forget to eat – Waiting too long between meals is putting you in danger. It can result in hypoglycemia for individuals with diabetes, especially if they're taking particular diabetes medications. Consistency with meal intake can help with other habits that should be consistent. For example, monitoring blood glucose regularly (for those who monitor before they eat) and/or taking medications as prescribed. If you're a diabetic or have prediabetes, make sure you have some candies, juice boxes, or milk on hand to raise your blood glucose levels up quickly if they've dipped too low.
Too many refined carbohydrates - The quality of carbohydrates in your diet matters. Refined carbohydrates (like white bread, pretzels, chips) have been linked to higher rates of insulin resistance. Limit processed products made with white flours and added sugars. Instead, focus on healthy snacks that are high in fiber and made with whole grains.
You're overeating - Not only can losing weight improve insulin sensitivity, but managing your weight is an important part of managing your diabetes. Eating large meals, especially those that contain a lot of carbohydrates, typically results in after-meal blood glucose readings that are elevated. Talk to your doctor or diabetes educator about how to create a diabetes-friendly meal plan that's best for your health.
You're eating too close to bedtime - Eating late at night can wreak havoc on fasting blood glucose levels the next morning. Ask yourself if you're eating because you're truly hungry or if you've simply developed the habit to snack at night. If it's the latter, consider brewing a mug of herbal tea and finding something else to do instead of eating.
We can't all be perfect, but if we continue to push ourselves to improve our eating habits, we'll all reap the same reward in the end – a healthier, happier life.