Not everything low-carb, low-sugar has to be tasteless. These diabetic-friendly pancakes are not only healthy and delicious, but also easy to make. Serve with fresh fruit to make it more filling, or add fruit right into the batter. For a heart-healthy option, use whole wheat flour.
Tip - Trading butter for applesauce is a healthy way to cut out excess fat and still enjoy the sweetness of pancakes.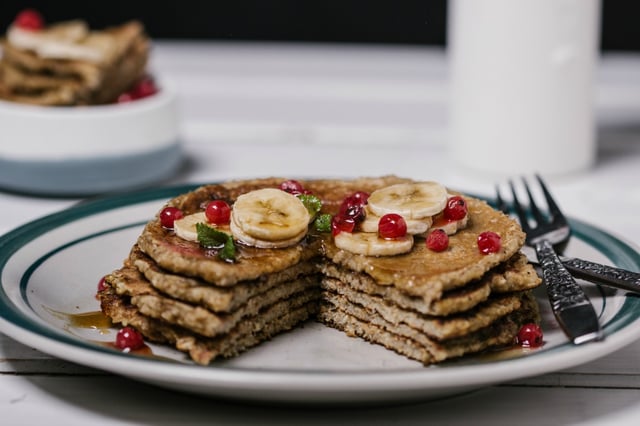 Ingredients
1 cup all-purpose flour
1 teaspoon baking soda
1/8 teaspoon salt
2 tablespoons toasted wheat germ
1 cup nonfat buttermilk
1/4 cup unsweetened applesauce
2 teaspoons vegetable oil
1 large egg, lightly beaten
Cooking spray
Sugar-free maple syrup (optional)
Fresh fruit slices (optional)
Preparation
Combine the first 4 ingredients in a medium bowl; make a well in the center of the mixture.
Combine buttermilk and the next 3 ingredients. Add buttermilk mixture to dry ingredients, stirring just until dry ingredients are moistened.
Heat a nonstick griddle or nonstick skillet coated with cooking spray over medium heat. For each pancake, pour 1/4 cup batter onto hot griddle, spreading to a 5-inch circle. Cook pancakes until tops are covered with bubbles and edges look cooked; turn pancakes, and cook other side.
Tip: One tablespoon of sugar-free maple syrup has 8 calories and 3 grams of carbohydrate.
Nutritional Information
Calories per serving: 74
Calories from fat per serving: 0.0%
Fat per serving: 1.8g
Saturated fat per serving: 0.4g
Monounsaturated fat per serving: 0.0g
Polyunsaturated fat per serving: 0.0g
Protein per serving: 3g
Carbohydrate per serving: 11.5g
Fiber per serving: 0.6g
Cholesterol per serving: 22mg
Iron per serving: 0.0mg
Sodium per serving: 143mg
Calcium per serving: 0.0mg