Cauliflower mashed potatoes are a great way to sneak cruciferous veggies into traditional comfort food when you have a restricted diet. I had heard for a while that you can make mashed potatoes with cauliflower, but was always a little nervous to use entirely cauliflower! For these cauliflower mashed potatoes I used some red potatoes, and some cauliflower, and they came out delicious! The cauliflower actually really adds a nice flavor to the potatoes, without overpowering them. Make sure to use red or other waxy potatoes, because they are significantly lower on the Glycemic Index than other varieties.
Ingredients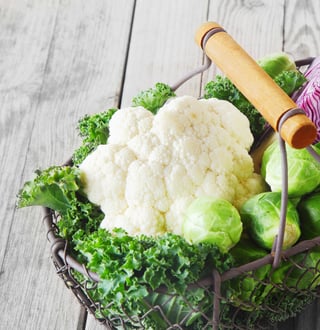 4 Medium Red Potatoes (chopped with skin on)
1 12 Oz Bag Cauliflower (pre-washed and chopped)
1 Small Onion, Roughly Chopped
5 Cloves Garlic, Roughly Chopped
About 1/2 Cup of Broth (use your favorite kind)
Sea Salt and Pepper to Taste
1 Tsp Organic Dried Thyme
1 Tbsp Coconut Oil
Directions
Boil the potatoes over medium heat, until they're tender. Add the cauliflower, onions, and garlic for the last few minutes of boiling. When all of the veggies are tender remove them from the heat and drain them in a metal colander. Add the coconut oil, salt, pepper, and thyme, and mash by hand or with your immersion blender. If the cauliflower mashed potatoes are too dry, add more broth - one tablespoon at a time. Last but not least, enjoy!