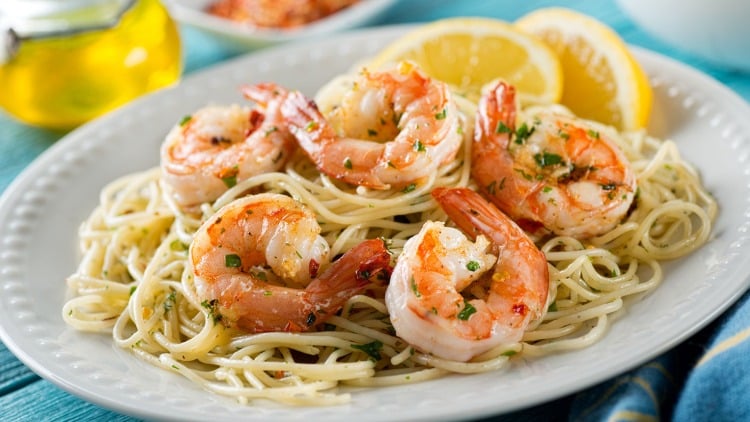 Looking for a healthy take on a comfort food favorite? How about a diabetic recipe: healthy Shrimp Scampi with Linguine? All you have to do is sub olive oil for butter and zucchini noodles for pasta (if desired), and just 30 minutes later you'll have a delicious and diabetes friendly Shrimp Scampi with Zucchini Noodles.
PREP: 20 MINUTES COOK: 10 MINUTES YIELD: 2 TO 4 SERVINGS
INGREDIENTS –
2 Tablespoons olive oil

1 lbs jumbo shrimp, shelled and deveined

1 Tablespoon minced garlic

1/4 teaspoon crushed red pepper flakes (optional)

1/4 cup white wine

2 Tablespoons freshly squeezed lemon juice

2 medium zucchini, cut into noodles (To cut zucchini into noodles, use a mandoline or a spiralizer.) - Otherwise use any noodles you desire!
DIRECTIONS
Place a large sauté pan over medium-low heat. Add the olive oil and heat it for 1 minute. Add the garlic and crushed red pepper flakes and cook them for 1 minute, stirring constantly.
Add the shrimp to the pan and cook them, stirring as needed, until they are cooked throughout and pink on all sides (about 3 minutes). Season the shrimp with salt and pepper and then using a slotted spoon to transfer them to a bowl, leaving any liquid in the pan.
Increase the heat to medium. Add the white wine and lemon juice to the pan. Using a wooden spoon, scrape any brown bits from the bottom of the pan, cooking the wine and lemon juice for 2 minutes. Add the zucchini noodles and cook, stirring occasionally, for 2 minutes. Return the shrimp to the pan and toss to combine. Season with salt and pepper, garnish with parsley and serve immediately.
When you're done with your meal you can put on your Anodyne diabetic shoes take a nice walk! Enjoy!