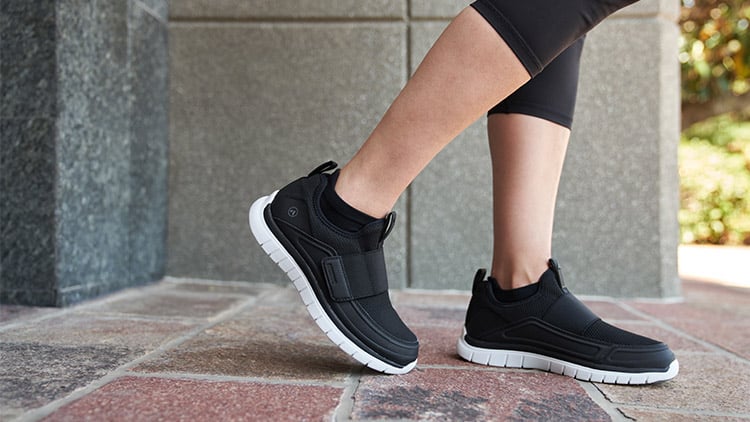 Feet come in all different shapes and sizes, which makes the footwear options boundless. When you add in some of the conditions that may affect your feet, you may want to narrow down those options to something more specialized for your condition. We are going to look at a few common conditions affecting one's foot, and the best Anodyne shoe to accommodate that condition.
1) Wide Feet:
Finding a shoe that meets the comfort required and style desired, can be tricky. Luckily, every single Anodyne shoe style comes in Medium, Wide, and Extra-Wide widths. Therefore, truly any of Anodyne's men's diabetic shoes can work. Below are our two favorite and best-selling athletic styles!
Anodyne Suggestion: No. 22/No. 23 Sport Runner
2) Bunions:
Bunions are probably the most common foot condition we hear of. A bunion is formed when the big toe pushes against the next toe. Some of the causes of Bunions are tight shoes, foot stress, and arthritis. Several of the symptoms associated with bunions are bone deformity, pain, and foot stiffness. Having accommodating footwear is one of the best ways treat bunions.
Anodyne Suggestion: No. 66/No. 63 Casual Comfort Stretch
The Casual Comfort Stretch is the perfect shoe to accommodate bunions because of the Stretch PU upper. This synthetic material is made to stretch and accommodate foot deformities. When you have bunions, you do not want a shoe that is tight and creates friction along the bunion. This shoe will not only adjust to accommodate the bunion, but is also very soft, making it the perfect shoe for this condition.
3) Neuropathy:
The most common foot condition associated with Diabetes is Neuropathy. Neuropathy is a weakness, numbness, and pain from nerve damage, usually in the hands and feet. The basic symptoms of this condition are pain, a pins-and-needles sensation, numbness, and weakness in the hands and feet. One of the primary preventative treatments for Neuropathy is proper footwear. Due to the loss of sensation in the feet, ill-fitting shoes can lead to blisters and sores that do not get properly treated due mostly in part to the lack of sensation the person affected has. In more severe cases, this can lead to infection, gangrene, and in some cause amputation.
Anodyne Suggestion: No. 46/No. 45 Sport Jogger
So the truth of the matter is all of Anodyne's offerings are great for those suffering from Neuropathy. All Anodyne's shoes are microfiber lined, which is great for keeping the inside of the shoe as soft as possible on the patient's foot. The reason I selected the Sport Jogger option is because the upper is made of a softer synthetic material that will reduce any friction between the shoe and patient's foot. Additionally, it has a Velcro closure which makes it easier to get on and off for those who also have neuropathy in their hands.
As you can see, there are many Anodyne men's diabetic shoes to consider for your feet and their various conditions. Choosing the right model, as well as, the correct size and width will do wonders for your feet.
If you have absolutely any questions about the best shoes for wide feet, bunions, and diabetic neuropathy, please do not hesitate to reach out to us at 1-844-637-4637 or email info@anodyneshoes.com.