Held March 28, 2017, American Diabetes Association Alert Day is a day to sound the alarm about the prevalence of type 2 diabetes in American adults by asking America to take the American Diabetes Association Type 2 Diabetes Risk Test. The free, anonymous risk test is available online or via a one-sided handout, and only takes a minute to complete. With questions such as "Do you have a family history of diabetes" and "Are you physically active," participants can learn if they're at risk for type 2 diabetes in 60 seconds.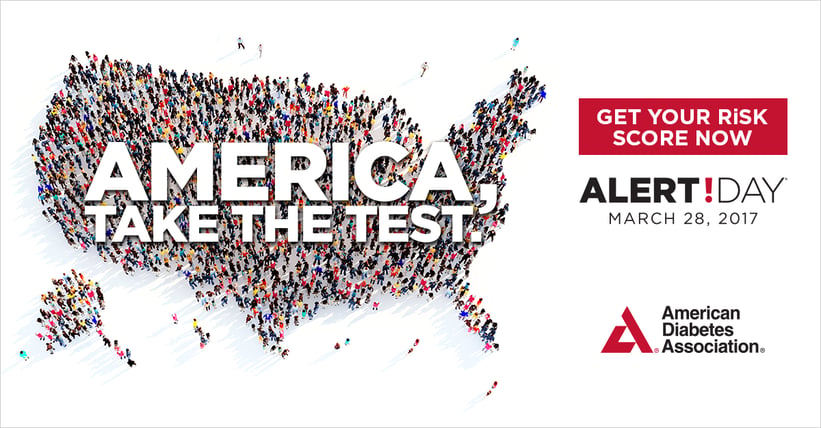 Take the Type 2 Diabetes Risk Test
9 out of 10 Americans most at risk for type 2 diabetes don't know it. Take 60 seconds to find out if you're one of them. Knowing your risk is the first step toward a healthier life. Follow the link below to take the test.
http://www.diabetes.org/are-you-at-risk/diabetes-risk-test/
Learn How to Lower Your Risk
If you're at risk for type 2 diabetes, speak with your health care team and use these tips to lower your risk.
Maintain a healthy weight - Staying at a healthy weight can help you prevent and manage problems like prediabetes, type 2 diabetes, heart disease, high blood pressure and unhealthy cholesterol.
Incorporate a healthy diet - Eating healthy is one of the most important things you can do to lower your risk for type 2 diabetes.
Start an exercise regimen - Physical activity can do a lot for your health, even if you haven't been very active lately.
Are you at risk for Type 2 diabetes? Take the test today!