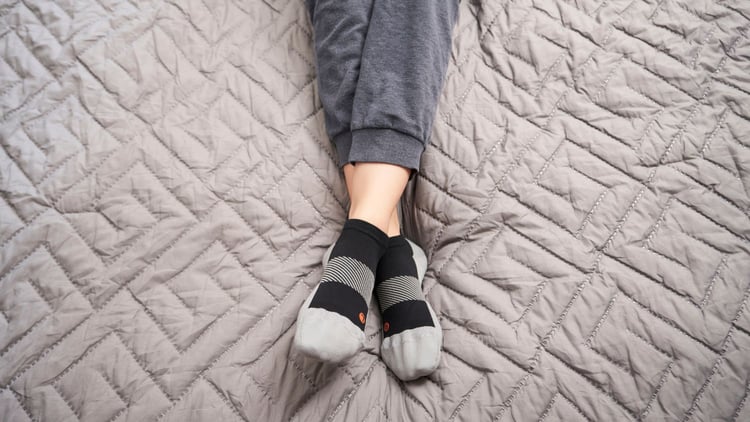 Diabetic socks are designed to help people with diabetes keep their feet healthy and comfortable. They are made from materials that wick away moisture and prevent blisters, and they often have features that help to improve circulation.
If you have diabetes, it is important to choose the right diabetic socks for your needs. Here are some factors to consider when making your decision:
Fabric: The fabric of your diabetic socks is one of the most important factors to consider. It should be a soft, breathable, and moisture-wicking material. This will help to keep your feet dry and prevent the development of blisters and other foot problems.
Fit: The fit of your diabetic socks is also important. They should fit snugly but not too tightly. If they are too tight, they can constrict your circulation and lead to problems like numbness and tingling. If they are too loose, they can bunch up and cause friction, which can also lead to blisters. Make sure to always refer to the size chart. Anodyne's size chart may be found below.
Sock Size Chart
| | | |
| --- | --- | --- |
| | Men | Women |
| XS | 2-4 | 3-5 |
| S | 5-6.5 | 5.5-7.5 |
| M | 7-9.5 | 8-10.5 |
| L | 10-12.5 | 11-13 |
| XL | 13-16 | 13.5+ |
Seams: The seams on your diabetic socks should be flat or seamless. Seams that are raised or uncomfortable can cause rubbing and blisters.
Cushioning: Diabetic socks may have extra cushioning in the heel and toe areas. This can help to protect these sensitive areas from injury.
Arch support: Arch support can help to improve circulation and reduce pain in the feet. If you have flat feet or high arches, you may need diabetic socks with arch support.
Here at Anodyne, we understand the difficulty of finding socks that fulfill these qualities. To solve this issue we created our own socks that will make you and your feet happy. Our socks are available in three different lengths (no show, quarter length and crew length) and two colors (black and white). Some of the features our our socks are:
Anatomical left/right fit

Supportive arch

Light gradient compression

Seamless construction

Impact absorbing padding

Silver infused, ultra-soft microfiber nylon and high bulk acrylic blend
If you have any more questions about our sock collection or questions about what to consider when choosing diabetic socks, visit our website or contact us at info@anodyneshoes.com.