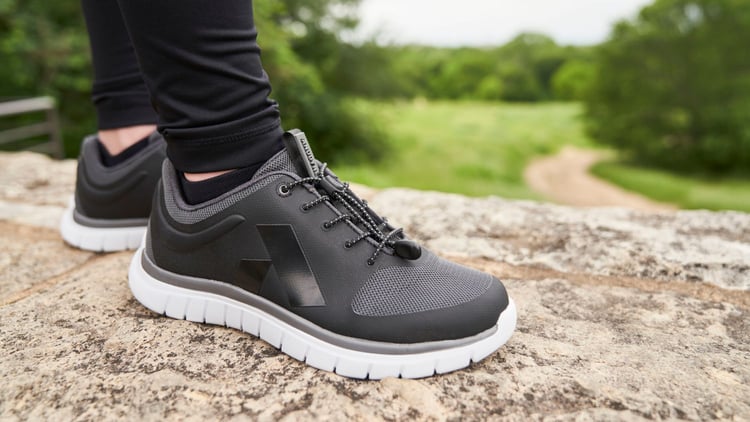 Orthopedic shoes are designed to provide support and comfort for people with foot problems. They are typically made with special features that can help to correct or alleviate a variety of foot conditions, such as flat feet, bunions, and plantar fasciitis.

The anatomy of an orthopedic shoe is similar to that of a regular shoe. However, there are some key differences. Orthopedic shoes typically have:
A wider toe box to accommodate bunions and other deformities.
A deeper heel cup to provide more support for the arch of the foot.
A strong shank to provide arch support.
The features of an orthopedic shoe can vary depending on the specific needs of the individual and brand of shoes. Some common features include:
Removable orthotics: This allows the wearer to customize the fit and support of the shoe.
Arch support: This helps to correct flat feet and provide support for the arch of the foot.
Heel cushioning: This helps to absorb shock and reduce pain in the heel.
Wide width: This accommodates bunions and other deformities.
Anodyne shoes provide the following features to help support individuals feet:
Light Weight Outsole – All day comfort, increased durability
Padded Collar – An alternative to leather, our collars prevent possible irritation where the material meets your ankle
Padded Tongue – Prevents foot slippage and ensures proper fit
Seamless Microfiber Lining – We've designed all styles with the absolute minimum number of seams. By avoiding excess seams, you lower the risk of possible irritation and complication.
No Metal – Metal can often irritate and damage the skin, and in rare cases, sewing needles and staples may accidentally be left in shoes and, in turn, cause serious damage. Recognizing this potential hazard, we've circumvented any such exposure by eliminating absolutely all metal components from our shoes. In addition, every pair of shoes is run through a metal detector prior to shipping.
Antimicrobial Treatment – In order to ensure our shoes are 100% hygienic, we spray the inside of every pair with our proprietary, Anti-microbial Protectant before shipping. This 100% natural, anti-fungal and anti-microbial process naturally reduces 99.9% of germ, virus, and bacteria exposure.
Extra Depth – Accommodates for swelling, and placement of orthotic/insert (5/16 in extra depth)
Protective Toe Box – Protects toes
Strong Shank – Adds extra support to arch area of shoe
Heel Counter – Provides maximum foot support by cradling the heel to reduce over-pronation and prevent heel slippage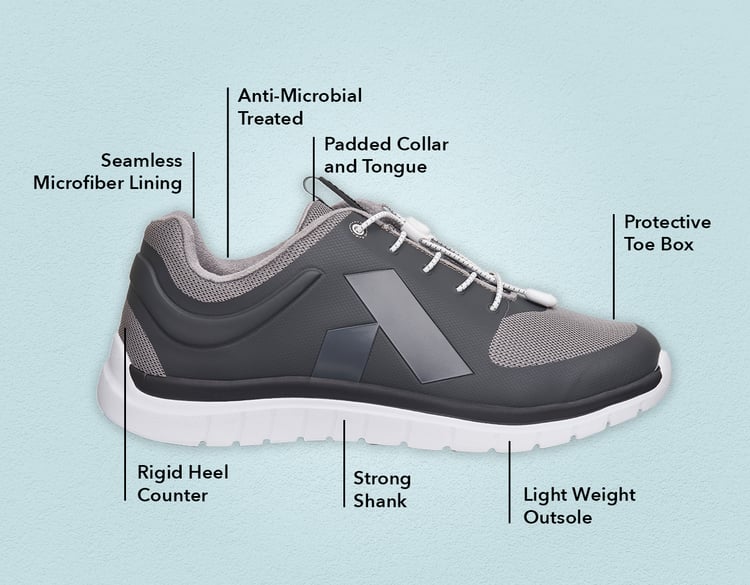 Orthopedic shoes can be beneficial for people with a variety of foot problems. They can help to relieve pain, improve alignment, and prevent further damage to the feet. If you are considering wearing orthopedic shoes, it is important to talk to your doctor or podiatrist to get the right fit and support for your specific needs.
When choosing orthopedic shoes, it is important to consider the following factors:
The severity of your foot problem
Your activity level
The style of shoe that you prefer
It is also important to get the shoes fitted by a doctor or podiatrist. This will ensure that the shoes fit properly and provide the right amount of support for your feet.
Orthopedic shoes can help to relieve pain, improve alignment, and prevent further damage to the feet. If you are considering wearing orthopedic shoes, check out our website so see your options. If you have any questions, contact us info@anodyneshoes.com.