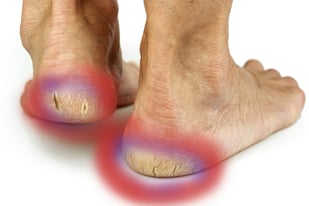 Today we are going to talk about something I frequently suffer from…heel cracks. Heel cracks are something that are relatively painful, and annoying!
Before I give you my remedies, let's take a look at how heel cracks occur in the first place. Cracks in the heels are generally caused by insufficient moisture. When the feet become too dry, heel fissures can develop quite easily. The heel pad wants to expand outward, but the skin is not pliable enough to expand with it, so it cracks.
Obviously this is an issue nobody wants to have, especially if you have diabetic neuropathy. Below is a simple remedy I've started to use to prevent my heel cracks from happening.
Before going to bed, soak your feet in warm water for 15 to 20 minutes.
Scrub your heels and other dry areas with a pumice stone, being careful not to irritate the cracked areas. It will gently slough off dead skin cells, revealing smoother skin. If you already have small cracks, be careful not to irritate those areas.
Rinse off your feet, pat them dry, then apply foot cream, salve, body butter, or any other moisturizer.
Slip on a pair of socks, and you'll wake up to happier feet.
Repeat this process until all the cracks are gone.
With summer rapidly approaching, it's best to take proactive measures to prevent heel cracks. The better your feet feel, the happier you'll be…trust me.