Stress-related changes in hormones such as cortisol can cause blood sugars to rise in people with diabetes. There is also growing evidence that "chronic stress" can lead to type 2 diabetes.
If you have diabetes, you probably know that if you get ill, your blood sugars will most likely go up. In fact, the best predictor of children coming down with an illness is a sudden, unexplained rise in blood sugars.
Dealing with a chronic illness can be very stressful. High blood sugars can lead to even more stress and feed a vicious cycle in a person with diabetes. Practicing ways to reduce your level of stress will help break the cycle.
One way to keep stress at bay is through mindfulness. This is the process whereby you are completely present in your body. Mindfulness teaches us to know how to interpret signals from our nervous system and react to them with less tension. Being aware of your stress doesn't make it disappear but it makes it more rational and easier to understand and process.
One of the most important things to know about living with diabetes is that you should never stop learning. The more you understand diabetes and the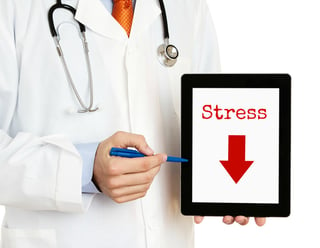 medications that you take to control it, the more likely it is that you can feel confident and comfortable living with diabetes. Don't fight it or continually resent it—just know that it is a part of you and that it can be controlled and managed.
Here are a few specific things you can do to reduce the stresses that can cause blood sugar spikes:
Yoga and meditation – exercise your body and mind. I great way to manage your stress from both a physical and emotional perspective.
Smile – yes, seriously. Smiling puts you in a better frame of mind.
Friendships and relationships – a very important to a feeling of well-being. Try not to isolate yourself in times of stress and find some humor in all you do. Learn from children – laugh, play, live in the moment.
These are just a few ways to live a less stressful and more fulfilling life.
Lastly, probably one of the best things you can do is help someone else. A random act of kindness can bring about great joy. Let's all try to "pay it forward."