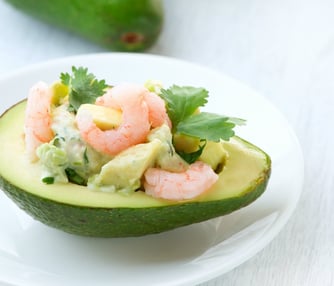 These avocados are stuffed with a flavorful southwest mixture of shrimp, bell pepper, jalapeno, and cilantro. It's an easy, tasty lunch, snack, or even dinner!
I prefer to buy the raw shrimp and devein and cook myself, rather than the majority that are precooked. It makes all the difference in my opinion.
Cook Time
10 mins
Prep Time
10 mins
Yield: 4 to 8 servings
Ingredients
4 avocados, halved and pitted
1 lb. small/medium cocktail shrimp
1 green bell pepper, diced
1 jalapeno, minced
1 cup cilantro leaves, roughly chopped
1 lime, juiced
salt and pepper
Instructions
Scoop out some of the avocado from the pitted area to widen the "bowl".
Place the scooped avocado into a medium-size mixing bowl. Mash it with a fork.

Heat water to boiling in a medium pot. Meanwhile, shell and devein shrimp.

Reduce heat to simmer.

Add shrimp and cook just until pink and slightly firm to the touch, about 3 minutes.

Add the shrimp, bell pepper, jalapeno, and cilantro to the mixing bowl. Add lime juice. Stir it all together until everything is well mixed.
Scoop into the avocado bowls. Season with salt and pepper.
Enjoy!