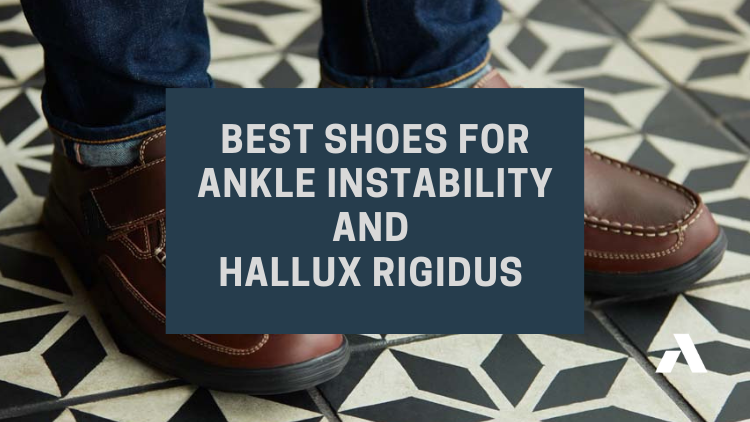 Are you wondering what the best shoes are for your feet? Do you suffer from ankle instability or hallux rigidus? It can be overwhelming and challenging to find the proper shoes to support your foot condition(s), but not to worry as this is exactly where we come in! If you suffer from bunions, hammer toes or neuropathy, head over to our blog post where we cover those foot conditions. We are going to look at a few additional conditions affecting one's foot, and the best Anodyne shoe to accommodate that condition.
1) Ankle Instability:
Ankle instability can be a result of many different foot conditions. Rather it be Arthritis, nerve injuries, fractures, neurological disorders, or general wear and tear, there is a need for additional ankle support. Having proper stability can help improve gait or reduce any pain cause by the instability.
Anodyne Suggestion: No. 55/No. 56 Trail Boot
The best way to secure the ankle and provide greater stability is to pick a style that goes obove the ankle and secures it. The nice part of the trail boots is the Velcro strap which can be adjusted to comfortably secure the patients ankle while they are wearing the shoe.
2) Hallux Rigidus:
Hallux Rigidus is a disorder of the joint located at the base of the big toe. It causes pain and stiffness in the joint, and with time, it gets increasingly harder to bend the toe. As the big toe stiffens it can become increasingly difficult to put on footwear. Identifying an easy to get on shoe can certainly help alleviate the burden here.
Anodyne Suggestion: No. 51/No. 52 Casual Dress
Having a sure with a flexible throat (point of entry into the shoe) makes it way easier to get a shoe on and off. The Casual Dress options have a wider throat with elastic which makes the shoe really easy to get on even the most rigid of feet. The Velcro closure also allows the foot to be secured once inside.
Treating your feet to the proper shoe type for your foot condition, is only going to help you in the long run.